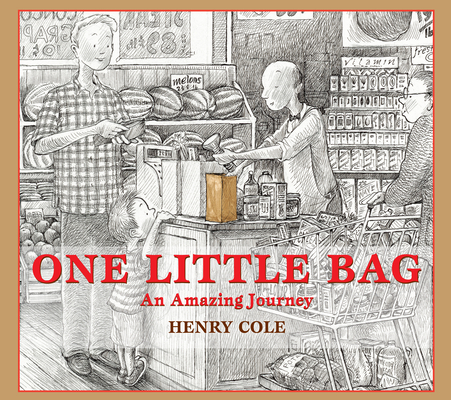 One Little Bag by Henry Cole
Overall: 5 out of 5 stars
We passed this little gem all around the children's department at my library, gasping and awwwing all the way through. I would be shocked if it's not a finalist for the Caldecott. From his website, Cole seems to be talented across different media; I had to double-check that I had the right Henry Cole's website, but it appears he is, in fact, the one behind Big Bug, Three Hens and a Peacock, and And Tango Makes Three.
One Little Bag is a wordless and mostly color-less story of a boy who reuses a paper bag throughout his whole life. It starts by following a log in its journey to become the bag, and the note after shares how Cole's environmentalist background, and experience reusing a paper bag in childhood, led to the story. Then we follow the bag as it holds a child's lunch every day, and then goes on to play a role in the big events in his life. In each spread, the only spot of color is the light brown of the bag (or log before it's a bag). The story is lovely and sweet, and also stars an interracial couple.