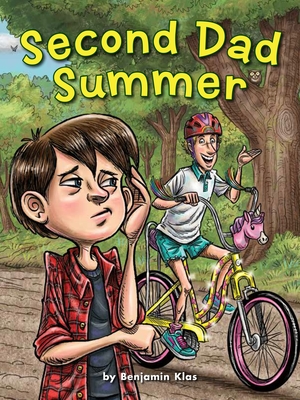 by Benjamin Klas
Overall: 4 out of 5 stars
Jeremiah is spending the summer with his dad in Minneapolis, as usual. This time, though, there's another man in the picture: his dad's boyfriend, Michael. Jeremiah met Michael last year but thankfully didn't have to spend too much time with him. This summer, though, he's still there. Jeremiah finds Michael's flamboyance and interest in being his parent annoying. Dad and Michael have moved in together to a new apartment and Jeremiah makes friends with Sage, a girl about his age (12) with two moms and a bicycle, and they spend a lot of time riding around together. They also manage to befriend Mr. Keeler, the resident curmudgeon. By the end of the summer, Jeremiah has come around to Michael, partly because of Mr. Keeler, whose passing plays a role in Jeremiah and Michael bonding.
A coworker recommended this one to me, but wasn't sure who to give it to. Normally the font size and protagonist age match up but this book might be a case of a hi-lo book (high interest level – of interest to a middle schooler – paired with low reading level, indicated by the larger font size and presence of pictures as aids). It's also a great show of bisexuality and bisexual acceptance; Jeremiah's dad (and mom) have known that he's bi all along and no one has any lingering issues about him dating both men and women. Sage has two moms and that's partly why they bond; she is cued as Black and all other characters are cued as white (except for one of Sage's moms who is identified as Hmong). It's also worth noting that the author does a great job of showing how Jeremiah feels about Michael and how it changes gradually over the course of the book.