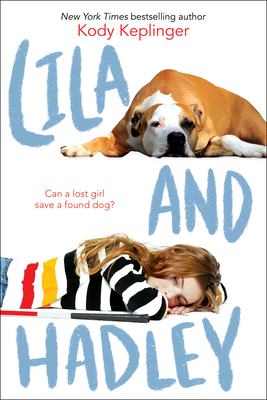 by Kody Keplinger
4.5 out of 5 stars
Twelve-year-old Hadley is understandably angry. Her mom went to jail for embezzling, her father died when she was little, she's losing her eyesight, and her big sister left home 5 years ago and never came back. But now she is back, to take Hadley to live with her while their mom is in jail. Hadley isn't destructive, though, she's just shut down. But when she meets a pit bull named Lila who is equally shut down, they are fast friends and change each other's lives for the better.
Because of Lila, Hadley makes a new friend, starts Orientation and Mobility training (walking with a cane and navigating the city), and even forgives her mother. Because of Hadley, Lila is reunited with her beloved owner. The parallels between Lila's and Hadley's stories are a bit heavy handed at times, but would be perfect for a 4th or 5th grader, especially as a follow up to a book like How to Steal a Dog (dogs+social issues/poverty), Lety Out Loud (dogs+friendship+shelters), or Rain Reign (dogs+disabilities).
The other thing that bugged me were how much more mature than their ages Hadley's sister and her new friend are. (I don't know any 24-year-olds who rent a whole house in the suburbs with a guest room and everything; and the friend was the wise voice that I don't think a kid would notice but just seemed to do everything right and perfectly.) But one of my favorite things was how Hadley's sister, Beth, had a crush on her female coworker and it wasn't a huge deal about her coming out, it was just that she was being so obvious that "even a 12-year-old can tell."
One of the reasons I like reading the acknowledgements of books (besides finding out which famous authors are friends) is that I get to learn interesting things about authors. In this case, that Keplinger is also vision-impaired, making this an #ownvoices novel.