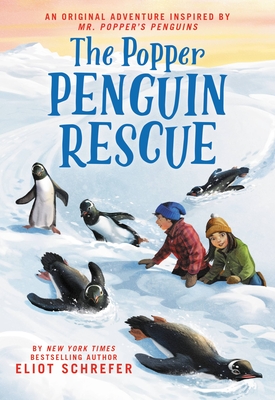 by Eliot Schrefer
Overall: 4 out of 5 stars
I loooooooved Mr. Popper's Penguins as a kid. I believe it even fueled me and my sister pretending our stuffed penguin was alive, putting it in a box and "feeding" it torn up construction paper, on an Antarctic twist on proving responsibility to our parents to get a real pet. I haven't re-read the book as an adult, mostly out of fear that it won't have aged well.
The Popper Penguin Rescue features descendants of both Mr. Popper and his penguins. His distant relations, Nina and Joel and their mom, move back to town and into one of the old Popper penguin attractions and promptly find two mysterious eggs, about to hatch. They eventually decide to reunite the two chicks with the other Popper penguins, who had been rehomed on an arctic island. With the unquestioning help of an Inuit sailor, they take off from school to make the trip.
While on the island, they realize that the penguins don't belong there, and are in fact having a devastating effect on the native puffins, who no longer have enough fish to eat. So they get Yuka, their Inuit guide, to take them and all the penguins to Antarctica. Once they get there they realize that the two chicks are a totally different species and should be somewhere else. In fact, because they have imprinted on Joel and Nina, they won't survive in the wild at all, so the family decides to keep them in the end and use them to tour and educate people on penguins and climate issues.
This story is a lovely adventure for young children but requires a lottttt of suspension of disbelief that older readers might find frustrating. In particular, the family's reliance on others – in particular a Native person for his labor and time, but also the Popper Foundation for funding – not to mention just dropping everything and going off on an adventure. But probably similar things happened in the original book and I was probably just fine with it, which makes me wonder if it holds up, both culturally and in my estimation as an adult.