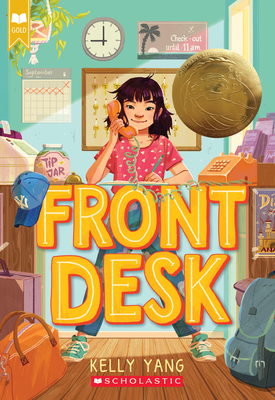 by Kelly Yang
Overall: 4.5 out of 5 stars
5th grader Mia Tang and her family move to yet another town in California. As Chinese immigrants in the 1990s, they are stuck in low-paying, unskilled jobs and the instability that accompanies them. But this time will be different – they will manage a motel together, as a family. But their boss, Mr. Yao, is cheap and pays them very little, even though (or maybe because?) they live at the motel rent-free. It doesn't help that Mr. Yao's son, Jason, is in Mia's class at school and is well on his way to being a terrible person like his father. Mia's new friend Lupe is the daughter of immigrants as well and the two hit it off fast. Lupe even helps Mia enter a contest to win a motel in New Hampshire.
Then there are the weeklies – the residents of the motel, who pay by the week. One weekly, Hank, is an integral part of Mia's story, as they help each other. Over the course of the school year, this motley crew becomes a family, and Mia's English improves to the point of actually helping people with her writing: a letter of recommendation for Hank to get a job, and a threatening letter to another immigrant's boss who is trafficking immigrants to his restaurant and then confiscating their passports. She proves her mom wrong, that she's not a bicycle among cars when it comes to competing with her classmates in English.
I loved the author's note that most of the story was autobiographical. Even the harder parts, like when Mia's mom gets beaten up by a thief. I was sort of glad that the motel giveaway didn't really happen, because that, and its resolution, seemed pretty unrealistic. I was still moved by how it all came together, though, and I think young readers will love it (I would have, at age 10). Even Jason seems not to be quite as much of a lost cause as he did at the beginning, and it appears that he, Mia, and Lupe become friends in the sequel, Three Keys. Not much is made of the economics of the weeklies, and in fact they seem to have, if not plenty of money, at least not the bone-scraping poverty outlined in Barbara Ehrenreich's Nickel and Dimed: On (Not) Getting By in America. Racism toward Black people is an important part of the storyline, but the racism and discrimination that Mia experiences is similarly brushed aside, which was disappointing but understandable.