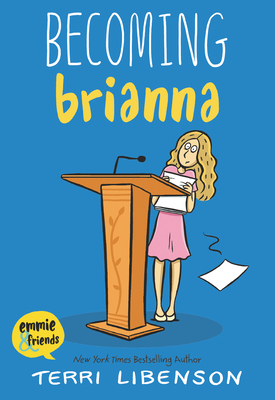 by Terri Libenson
Overall: 5 out of 5 stars
I had been so sure that the twist in Invisible Emmie was that Brianna was not real, but it seems she is very real in this fourth installment in the graphic novel series! Brianna's seventh grade year is told in flashbacks from her Bat Mitzvah day in June back to 8 months earlier, and moves chronologically up to the big day, mostly exploring how she prepares and also the friend/classmate drama that leads up to it. Basically, rumors start to fly about what her party will be like, and some of the "cool" kids try to get on her good side to get an invite. Two of the popular girls manage to get invited but Brianna finally comes around to the realization that they are just using her. Mostly she resists this because her former best friend says it, and they are going through a rough patch since her BFF is starting to become close with someone else.
I liked watching how Brianna changed over the course of the year. I did think that the two popular girls coming to the party and feeling sad and left out was a bit of a stretch, but otherwise loved how maturely Brianna dealt with the whole situation. She also really grapples with her relationship with Judaism and why she's doing the Bat Mitzvah in the first place, if not just to please her mother. (Brianna's father is not Jewish and she has not gone to Hebrew school consistently; her parents are also divorced and fight about the Bat Mitzvah a lot.) In the end, Brianna and Emmie make up and are friends again, and Brianna learns to accept Sarah a little more too.