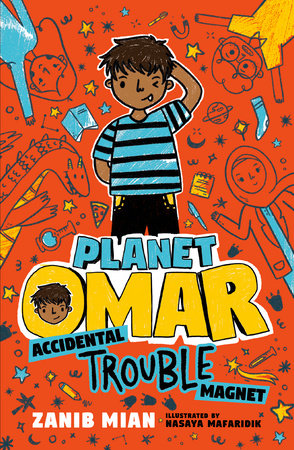 by Zanib Mian
Overall: 4 out of 5 stars
Omar is an elementary schooler of indeterminate age (though his siblings are 3 and 13 so I am guessing he's 8-ish). His family is Muslim and lives in London, though they move at the beginning and he has to change schools. He quickly makes a new friend and a new enemy, but by the end of the book, the enemy has been won over with just a little compassion and understanding (turns out his little sister is very ill and gets all the attention). Omar's new next-door neighbor is anti-Muslim when they first move in, but their efforts to be friendly finally win her over, too. All's well that ends well!
This book has lots of illustrations and different text, in a Geronimo Stilton type way, but fewer different fonts and no colors, so it gave me less of a headache to read and might be a good stepping stone book between Geronimo Stilton and more traditional chapter books. This book also seems to be more of a window for others into Pakistani Muslim culture and less of a mirror for Muslims themselves as almost all of the terms are explained or at least given some context. I'm not sure I've seen any books like that for this age level but I'll keep looking because mirrors are so important. I really enjoyed this one, but docked it a star because the title seemed to suggest more cohesion around the fact that Omar is an accidental trouble magnet, but the story seemed to meander a bit more than that (or be straight-out more about the bully storyline).