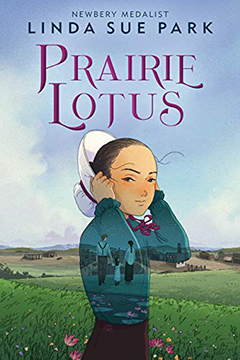 by Linda Sue Park
Overall: 4.5 out of 5 stars
14-year-old Hanna and her father have just moved to LaForge, Dakota. It's 1880 and LaForge is a new town. Hanna's father is able to rent a house for them and start construction on a store where he'll sell dress goods – fabric and sewing materials for people to make their own clothes. Hanna has two goals: finish her studies and graduate from school, and make dresses in her father's shop. But racism stands in her way.
Hanna's mother was Asian, which means that Hanna is half-Asian. Her mother was actually half Chinese, half Korean, which, as Park discusses in the author's note, was Park's way of inserting her own Korean self into the Little House on the Prairie books, which she was obsessed with as a child. Hanna's mother died after a long illness brought on by the rioting in Los Angeles, where they used to live, against the Chinese community in 1871. As long as Hanna's white father is the face of their family, the two of them can get established in the town. But as soon as Hanna shows up at school and people take one look at her face, things start to fall apart. Parents pull their children from school, her presence "causes trouble" because the town drunks assault her, and people start to boycott the store before it's even opened. But Hanna has managed to make two key friends and they help turn things around. It's a middle grade novel, so all ties up neatly and ends well, yet I could see sequel potential (there's a boy Hanna likes, but I worry that going down that road would lead to a very unrealistic tidy ending, which would be annoying).
Park does an amazing job of describing life on the frontier, especially details of dressmaking, which I wouldn't have the slightest idea of how things work currently, much less 140 years ago. there is the commentary on the racism that Hanna faces, where even the sympathetic white people were only willing to bend the rules of society and help to a point, and Hanna boldly pushes them to be true allies. She also offers some commentary on the Native Americans that Hanna befriends and how they were treated, which she also expands on in the author's note. I also especially appreciate her eloquent phrasing of my own thoughts: "I also can't help pondering which of our current and widely held attitudes will be fond lacking by future generations. Is our vision any clearer than that of our forebears?" In her acknowledgements, Park lists a number of Native people (and their tribal affiliation) who helped her, both well known and not. If I hear that Debbie Reese has offered thoughts on this book, I'll be sure to share them, as well.